College Guidance & Career Counseling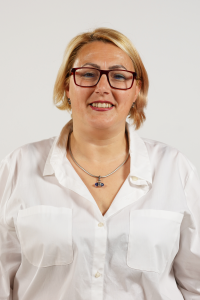 As we begin the school year, the College Guidance Department at American School of Kosova, would like to welcome back all our students from what was hopefully a healthy, restful, and productive summer. We would like to extend a warm welcome to all of our incoming freshmen, sophomore and transfer students. We are glad that each and every one of you has chosen our school, and we look forward to working with all of you throughout the year.
My name is Shpresa Hana, and I have been part of the American School of Kosova, since day one. Many of you might remember me as the first person you met when you first set foot in our school and some of you might remember me as Fjolla's, Guri's and Vullkan's mom. I have seen ASK changing, growing and developing every year and just recently in making history in our new beautiful campus. I am going with this flow and growing professionally as well. I moved to a new position as a College Guidance Counselor and Coordinator for the AP Program.
As a British citizen I have had the opportunity to see students in British system and I am familiar with students going to universities in Europe. I am bringing into this position my knowledge gained from there and many years spend here at ASK. This summer I went to USA I learned more about College Board, the role of College Guidance and what Universities are looking for in applications.
I have had the opportunity to guide my daughter through college applications. This experience really opened my eyes since I had both roles as a parent and as a College Guidance. I look forward to share my expertise and knowledge to help every child to find the pathways going to University or College
I will make every effort to meet as often as possible with each one of you and be accessible to you at all times. Parents and guardians are also welcome to meet with me via appointment to discuss any concerns they may have.
I look forward to the new school year, as well as to meeting all of you in and around school, as well as at the various guidance related functions.
Shall you need any information please contact me at [email protected]
Sincerely,
Shpresa Hana
College Guidance & Upper School Coordinator